2018 Summer Camp Information

Drop-off & Pick-up Locations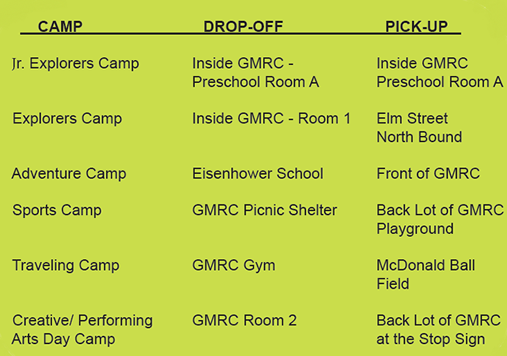 About the Staff
Our camp director and coordinators are seasoned staff members for numerous years and are currently pursuing or have completed a college degree. All of our counselors for camps with children over five years of age have graduated high school and show an aptitude towards childcare. All staff is CPR/AED certified.
2018 Summer Camp Registration
Register today! Summer Camp starts Monday, June 11.
Payment Plan Option:

Refund Guidelines
Refunds may be given the Fridays before the week of billing.
All refund requests must be made in writing to the supervisor.
How to Register
Complete camper information sheet and liability waiver for EACH
child signed and dated by parent/guardian.
Bring forms to the GMRC.
Online registration is available for summer camp.  All emergency forms must be completed by first day of camp.
Registration deadline for all camps is Friday by Noon, prior to new session beginning. A $10 late fee will apply to all registrations taken after registration deadline.
Download Summer Camp Forms
Camp Form