Cancelled
Thursday, April 9, 2020, 7:30-8:30pm
REGISTRATION DEADLINE WEDNESDAY, APRIL 1
BRING YOUR OWN FLASHLIGHT
LOCATION IS A SURPRISE!
This hunt is a night out at the park and the location will be kept secret until 1 week before the event. (The location and details will be emailed out to all registered participants) You must preregister for this program but the prizes are more than just candy. This event promises to be a TON of Fun for the "older kids".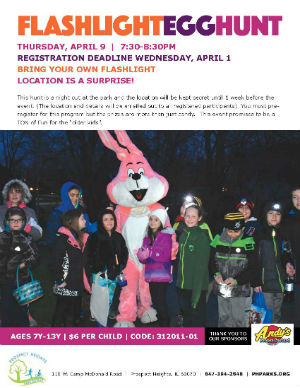 Date: April 9, 2020
Time: 7:30 pm – 8:30 pm
Location: Gary Morava Recreation Center
City: Prospect Heights
State: IL
Zip: 60070
(847) 394-2848
Contact: PHPD Staff