Community Open House
Tuesday, September 14, 2021 | 6:30pm-7:30pm | FREE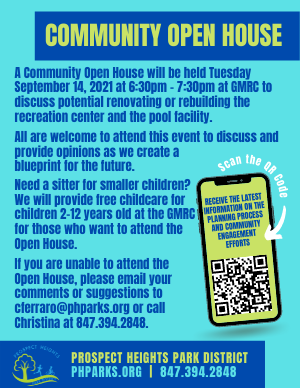 As part of the ongoing feasibility study we invite you to join us
A Community Open House will be held Tuesday Sept 14, 2021 at 6:30pm – 7:30pm at GMRC to discuss potential renovating or rebuilding the recreation center and the pool facility.
All are welcome to attend this event to discuss and provide opinions as we create a blueprint for the future.
Staff, board members and consultants are eager to gather community input.
Need a sitter for smaller children?  We will provide free childcare for children 2-12 years old at the GMRC for those who want to attend the Open House.
If you are unable to attend the Open House, please email your thoughts to [email protected] or call Christina at 847.394.2848.
Date: September 14, 2021
Time: 6:30 pm – 7:30 pm
Location: Gary Morava Recreation Center
Street: Recreation Building
Street2: 110 W. Camp McDonald Road
City: Prospect Heights
State: IL
Zip: 60070
(847) 394-2848
Contact: PHPD Staff