eLearning Camp
REGISTRATION FOR eLEARNING CAMP OPENS AUGUST 5 
One Week Sessions – AUGUST 19 – OCTOBER 16 
Due to the new schedules for schools, the Prospect Heights Park District is extending our camp as an eLearning opportunity.  eLearning Camp will be held at the Gary Morava Recreation Center for children pre-k through 6th grade. The safety precautions outlined by the Illinois Department of Commerce will be followed and are outlined in our COVID-19 Guidelines.
8:00 am – 2:30 pm for $100 per week
*Grade 6 eLearning Camp hours will be 7:45 am-3:00 pm
Extended care is available:
Power Play Before Care from 7:00 am to start of eLearning for $25 per week
Power Play After Care from 2:30 pm-6:00 pm for $50 per week *Aftercare will include indoor and outdoor free play and crafts.
Registration opens on August 5 online at www.phparks.org or call 847-394-2848 to make an appointment to register onsite.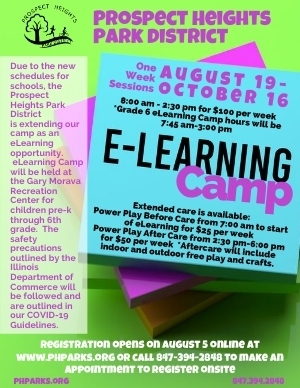 Date: August 19, 2020 – October 16, 2020
Time: All day
Location: Gary Morava Recreation Center
Street: Recreation Building
Street2: 110 W. Camp McDonald Road
City: Prospect Heights
State: IL
Zip: 60070
(847) 394-2848
Contact: PHPD Staff