Family Photo Scavenger Hunt
August 6, 2021 - August 16, 2021 | $15  per family | Click here to REGISTER ONLINE Code #112019-01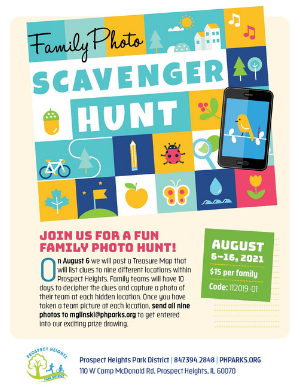 Join us for a Fun Family Photo Hunt!
On August 6 we will post a Treasure Map that will list clues to nine different locations within Prospect Heights. Family teams will have 10
days to decipher the clues and capture a photo of their team at each hidden location. Once you have taken a team picture at each location, send all nine photos to [email protected] to get entered into our exciting prize drawing.
Date: August 6, 2021 – August 16, 2021
Time: All day
Location: Prospect Heights
(847) 394-2848
Contact: PHPD Staff