Tree For Life Program
View Tree For Life Brochure Here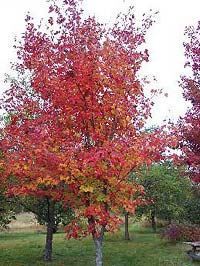 Tree For Life
Honor a loved one, a cherished organization or commemorate a special event by donating a tree to the Prospect Heights community. Donated trees are planted in one of the Park District's fourteen parks. A Prospect Heights Park District staff member will consult with you to choose an appropriate tree and park location. All tree donations are acknowledged with a personalized engraved Gold Leaf. Gold leaves are displayed on a plaque at the Gary Morava Recreation Center. Please call the Park District at (847) 394-2848 if you would like additional information about the Tree for Life program.
Tree Selection
Choose from a variety of trees with different characteristics. Trees give a sense of permanence and continuity, but you can pick between those that display colorful blooms and those that offer shade fullness, giving charm to the landscape. Choose from the following recommended trees:
Red Maple
Imperial Honeylocust
Marshall Seedless Ash
Autumn Purple Ash
American Linden
Little Leaf Linden
Golden Weeping Willow
Maidenhair Tree
Thornless Crusgalli Hawthorne
Japanese Crabapple
Chinese Crabapple
Saucer Magnolia
Norway Spruce
Blue Spruce
Austrian Pine
White Pine
Scotch Pine
Douglas Fir
How to Make a Donation
For a donation of approximately $300 to $500, depending on the size and type of tree chosen, a tree will be planted in one of the Park District's 14 scenic parks. Your donation will cover the purchase of the tree, the planting and a commemorative leaf or display.