Tree For Life Program
View Tree For Life Brochure Here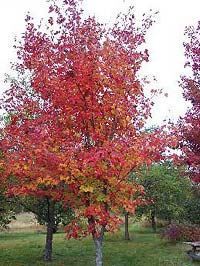 What is the Tree For Life program?
Trees give a sense of permanence and continuity. Through this program individuals and groups are welcome to donate a tree to any of the fourteen parks in the Prospect Heights Park District. This gift can be in honor of someone special or to commemorate a special occasion: births, anniversaries, weddings, memorials, retirements, and graduations , etc.  This is a program of the Prospect Heights Parks Foundation, recently formed 501(c)3 non-profit to enhance local programs, parks and facilities, 
How are trees and locations selected?
Choose from a variety of trees with different characteristics:  colorful blooms, shade fullness,  charm to the landscape, etc. Choose from a variety of Oaks, Elms, Baldcypress, Lindens, Hackberries and more.  Trees are planted in the spring each year and Park District staff will help choose the tree and location based upon your preferences. 
The Park District is responsible for acquiring, planting, pruning, fertilizing, and watering the trees. 
What is the cost?   
Tree prices differ based on their availability, species and maturity. Donations may vary from $300 to $700.  A bronze memorial plaque to be planted adjacent to the tree is optional.  All tree donations are acknowledged with an engraved leaf on the donor recognition tree on display in the  Recreation Center lobby. Please call the Park District at (847) 394-2848 for more information .
This is a meaningful and traditional way to show you care, help "green" Prospect Heights and support the newly formed Parks Foundation.