eLearning Camp
Weekly Sessions Now – District 23 returns to full in-person learning 
Due to the new schedules for schools, the Prospect Heights Park District is extending our camp as an eLearning opportunity.  eLearning Camp will be held at the Gary Morava Recreation Center for children pre-k through 6th grade. The safety precautions outlined by the Illinois Department of Commerce will be followed and are outlined in our COVID-19 Guidelines.
8:00 am – 11:00 am $10 per day for Kindergarten AM.
11:45 am – 2:30 pm $10 per day for Kindergarten PM.
8:15 am-2:30 pm $20 per day for 1st – 5th
7:45 am – 3:00 pm $20 per day for 6th
Extended care is available for an additional cost:
7:00 am – 8:15 am 
2:30 pm-6:00 pm 
eLearning Camp
E-learning camp will be held through the Prospect Heights Park District. There will be no District 23 staff on site to offer help with e-learning. Park District staff will be unable to tutor and will only be present to monitor children to have a safe environment while they work on their e-learning. Each child registered for e-learning camp will need to be able to guide themselves through their own e-learning work during camp e-learning hours. Prospect Heights Park District staff will also encourage children to do their e-learning work, however they can not force each child to do it. If a child refuses to do their e-learning work then that child will have to stay seated at their work station for the remainder of e-learning camp hours. District 23 is responsible for all e-learning curriculum, the Prospect Heights Park District will not be responsible for any of the curriculum.
Students will need their learning device and headphones daily. There will be no extra learning devices or headphones provided. Learning devices must be charged at 100% battery before your child arrives to the program. There will be limited outlets for children to charge their learning devices. 
Facial covering must be worn the whole time during the duration of the program except when eating lunch or outside and 6 feet apart. If a child refuses to wear a face covering multiple times, their parent or guardian will be contacted and might face being disenrolled from the program.
There will be no lunch or snacks provided. Please bring lunch and snacks in a disposable bag each day. Parents must also provide their child with supplies such as pencils, paper, crayons, markers, scissors, and glue sticks if needed. These supplies must be in a zip lock bag with your child's name on it. The Prospect Heights Park District will not be providing any supplies.
Before and After Care
Before and after care will include indoor and outdoor free play, homework time, movies to watch and organized activities. All toys have been removed from the room and children will not have access to them. There will also be no snacks provided, parents must bring a snack for their child in a disposable bag if needed.
Drop Off and Pick Up
Parents must take their child's temperature prior to their arrival at before care and e-learning camp. At the time of drop off, staff will ask for the child's temperature and if they are displaying any symptoms of COVID-19. For drop-off and pick-up, parents please remain in your car with your child until you are greeted by a member of our camp team.  A counselor will escort your child to and from their e-learning location and sign them in and out.
Prospect Heights Park District COVID-19 Policy
COVID-19 is an extremely contagious virus that spreads easily through person-to-person contact. Federal authorities and the State of Illinois recommend social distancing to prevent the spread of COVID-19.  Contracting COVID-19 can lead to severe illness, personal injury, permanent disability, and death. Participation in Prospect Heights Park District programs could increase the risk of you or your participant contracting COVID-19. Prospect Heights Park District and its staff undertakes every effort to keep our programming spaces clean and disinfected; however as with any public facility, we cannot guarantee that you will be 100% safe from airborne illnesses such as COVID-19 or colds and flu while participating in programs.
Due to COVID-19, participants must demonstrate the following behaviors or they will not be allowed to enroll or to continue to attend Park District programs.
Participant needs to show they can wear a mask independently for the duration of the program, except when eating or outside and 6 feet apart.
Participants must be able to refrain from habits that could increase the spread of illness such as:  picking skin, spitting and putting objects in their mouth.
Participants must not touch others and be able to keeping distance from others.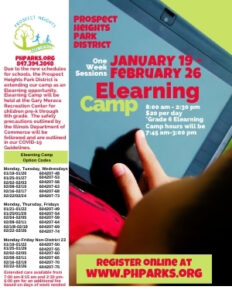 Summer Camp Descriptions & Registration Forms
2021 Summer Camp registration starts February 1, 2021
Download Camp Registration Forms
Early Explorers (Age:  3Y-5Y)
This will be a great first camp experience for our 3Y-5Y campers! We will have lots of indoor and outdoor small group activities, games and crafts! Plus each day the campers will go swimming during non-public swim time.  Children must be completely potty-trained.  Diapers or pull-ups are not allowed.  Enjoy the summer fun with us! 
Times: 9:00 am-3:00 pm / Ages: 3Y-5Y / Ratio: 1 counselor per 6 children. Camp Limit: 18
Camp Adventure (Grades:  Entering K-6th Grade)
This camp is designed for our campers ages 5Y-11Y. Groups will be divided into 5Y-7Y and 8Y-11Y.  This enriching camp will promote a healthy lifestyle through active play and enriching social activities.  Your child's strengths will be showcased through a variety of daily activities including: arts and crafts, small group games, open swim and much more! This camp will take off-site field trips. 
Times: 9:00 am-3:00 pm / Grades: Entering K-2nd / Ratio: 1 counselor per 7 children. Camp Limit: 50
Top Score Sports Camp (Grades:  Entering 2nd-8th Grade)
This camp is designed for both boys and girls who want to engage in a variety of sport activities.  Campers will participate in volleyball, basketball, soccer, wiffleball, floor hockey, and flag football and other camp favorite group games.  Campers will also learn the value of good sportsmanship and nutrition.   All campers  should wear comfortable clothes and gym shoes.
Times: 9:00 am- 3:00 pm / Grades: Entering 2nd-8th / Ratio: 1 counselor to 8 children. Camp Limit: 50
Camp Voyager (Grades:  Entering 5th-8th Grade)
Come travel with us! This camp will provide a new adventure each day! We will spend three days experiencing all the suburbs have to offer from water parks to entertainment venues. The other two days of the week campers will engage in various small group activities. Campers will gain self esteem by participating in team building activities.  All admissions are included in the camp fees. 
Times: 9:00 am- 3:00 pm / Grades: Entering 5th-8th / Ratio: 1 counselor to 9 children. Camp Limit: 26
The Last Hurrah – SPACE IS LIMITED, REGISTER EARLY! August 9-13 (Grades:  Entering K – 6th)
This is our final week of camp before school starts! This camp will combine Camp Adventure, Top Score Sports, and Camp Voyager for one last week of fun! We will split the kids up by ages.  Nature and science will be featured in this camp.  Combine this with our Warm Up and/or Extra Innings to make this a full day of camp.
Times: 9:00 am- 3:00 pm / Grades: Entering K-6th / Ratio: 1 counselor to 8 children Camp Limit: 50
NEW!  Counselor in Training
Brand new for summer 2021, is our counselor in training camp! The goal of this camp is to focus on developing leadership skills, preparing the camper for a future job interview, and learning how to be a good role model.  During the week long camp, campers will plan and implement innovative camp activities for Early Explorers Camp and Camp Adventure. The campers will be awarded with one field trip each session.
Times: 9:00am-3:00pm  Age: 13-15  
Creative and Performing Arts Day Camp (Grades: Entering K-9th)
Lights! Camera! Action! Fun! Join us for a spin on summer camp! Enjoy an amazing Creative and Performing Arts experience that will include singing, acting, dancing, improv, set design, stage makeup and so much more. This is a 5 day camp as we build on skills throughout the week. At the end of every 1 week session we will have a mini show to include small skits that the campers have learned during that week. The camp fee includes 1 in house/off-site special event each week. .  
Times: 9:00 am-3:00 pm / Grades: Entering K-9th / Ratio: 1 counselor to 7 children Camp Limit: 50
Production Camp
The curtain is going up…for a summer filled with the excitement and magic of theater! 
Stay tuned for Summer 2021 Show Information!
Warm-ups and Extra Innings
The before and after camp programs are designed exclusively for children enrolled in the Prospect Heights Park District day camps.  Extended activities include games, crafts, gym, swimming, playground and nature.  Children should bring a snack for the after care portion of the day. 
Times: Before 7:00am-9:00am  After  3:00pm-6:00pm  Grades:  K-8th