Swim Lessons
The Prospect Heights Park District is now a proud Training Center of Starfish Swimming Lessons, an internationally recognized swim instruction curriculum!  Starfish Swimming curriculum is designed for students' ages 6-months to adult.  Benchmarks are established at each stage in the program that combine both swimming and safety skills.  Students participate in experiential learning activities that allow them to explore the water in a creative and comfortable environment.
Refunds are not given for illnesses, vacations, weather, or chemical/mechanical issues.  Make-up lessons are not available.  Please call the pool hotline: 847-394-7797 for schedule updates.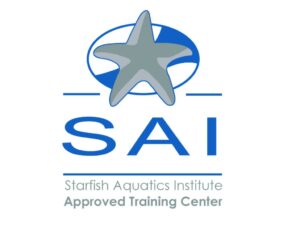 StarBabies & StarTots (ages 6 months – 3 years)
The purpose of this course is to foster in very young children a high comfort level in the water while at the same time training parents and caregivers in water safety and drowning prevention.  This course does not teach children to become accomplished swimmers or to survive in the water; it does provide a confidence-building, fun, and loving experience.  Parents are required to be in the water with the child at all times.  If multiple children, multiple adults are required; otherwise, only one parent per child in the water.
Starfish Swim School for Preschoolers & Youth (ages 3-13 years)
Students work toward development of the five core swimming competencies using age-appropriate learning activities.  Children progress at individual rates with the opportunity to learn the core swimming skills and progress to advanced strokes.  Learning is self-paced but challenging.  The color stages are used to divide students into broad ability groups.  
Starfish Swim School for Adults (ages 14+ years)
Students work toward development of the five core swimming competencies and personal goals using principles of adult learning.  The course is designed to improve comfort and skills in the water, regardless of past swimming experience.
Starfish Stroke School (ages 6+)
Starfish Stroke School is for students of all ages who have achieved all the Swim School benchmarks.  Students refine freestyle, learn stroke technique for backstroke, butterfly, and breaststroke, as well as develop endurance.  There is no separate registration for Stroke School and is offered at the same time as Swim School.
Save the Date: June 2023
Group photos will be taken the last 10 minutes of each lesson.

Our program is part of the USA Swimming Swim Lesson Provider Network and a local partner of the USA Swimming Foundation.