Fitness Programs
Currently we offer: Virtual Power Pilates and  Virtual Hatha Yoga! Please view our seasonal program activity guide for more information! Jazzercise is also held virtually.
Virtual Pilates with Darleen Carl-Beck
Mondays 9:00am-10:00am
Darleen Carl-Beck is a power Pilates certified instructor with over 25 years of experience.  Power Pilates mat class strengthens both the mid and the body, increases mental clarity, gain flexibility, and tone muscles with this class.  A zoom link will be emailed prior to the start of the class.
313004-05  May 3-24            Mondays 9-10am  $30
113003-05 June 7-28            Mondays 9-10am   $30
113003-06 July 5-26              Mondays 9-10am   $30
113003-08 August 2-30        Mondays 9-10am   $37
Body Fit Gold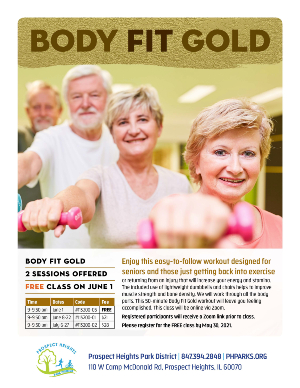 Zumba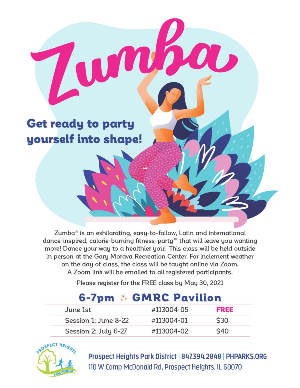 Jazzercise
Currently Jazzercise is held virtually.  When onsite classes resume, registration for Jazzercise is taken at the class, new students should arrive 10 minutes prior the the first class to register. 
Virtual schedule:
Monday 9:00am 4:30pm
Tuesday 9:00 am 5:40pm
Wednesday 9:00am 4:30pm
Thursday 9:30am 5:40 pm
Friday 9:00am
Saturday 8:30am
Sunday 9:00am
Click here for more Jazzercise information.
Prospect Heights Park District Fitness Center
Get Fit & Stay Healthy – you can belong to the Prospect Heights Park District's Health & Fitness Center at the Gary Morava Recreation Center. Click here to learn about the Fitness Center amenities as well as membership information.