KinderStop and Before/After Care Information
Program Page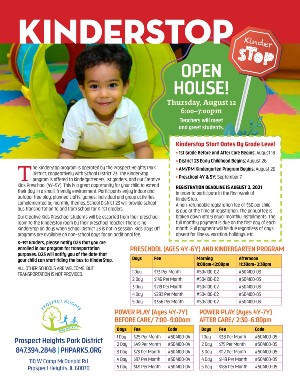 [/two_third]
Please notify Eisenhower School you are registered for the KinderStop program for transportation purposes.
KinderStop and Before/After Care Forms
KinderStop COVID-19 Guidelines
KinderStop Registration Form 2021-2022
KinderStop Medication Dispensing Forms
KinderStop Walking Field Trip Permission Form
KinderStop and Before/After Care
The KinderStop and Before/After Care program is operated by the Prospect Heights Park District, cooperatively with School District 23. The KinderStop program is offered to Kindergarteners and our Creative Kids PreSchool (4y-5y). The Before and After Care programs are offered to Kindergarteners, our Creative Kids Preschool (4y-5y), and 1st graders. This is a great opportunity for your child to extend their day, in a small, friendly environment.
Participants enjoy indoor and outdoor free play; planned crafts; games; and individual and group activities. School District 23 will provide school bus transportation to and from school for K-1st graders. Our Creative Kids PreSchool students will be escorted from their preschool room to the KinderStop room by their preschool teacher.  KinderStop and Before/After Care is offered on the days that the School District is in session.  K-1st Graders, please notify D23 that you are enrolled in our program for transportation purposes.
ALL OTHER SCHOOLS ARE WELCOME, BUT TRANSPORTATION IS NOT PROVIDED.
21-22 KINDERSTOP & BEFORE/AFTER CARE START DATES BY GRADE LEVEL:
DISTRICT 23 1ST GRADE BEFORE AND AFTER CARE BEGINS AUGUST 18, 2021
DISTRICT 23 EARLY CHILDHOOD KINDERSTOP BEGINS AUGUST 26, 2021
DISTRICT 23 AM/PM KINDERGARTEN KINDERSTOP BEGINS AUGUST 26, 2021
PRESCHOOL 4Y & 5Y KINDERSTOP BEGINS SEPTEMBER 7, 2021
REGISTRATION DEADLINE IS AUGUST 2, 2021 – In order to participate in the program for the first week of school, a non-refundable deposit of $50 is due at the time of registration. The annual fee is broken down into 9 equal monthly installments. The full monthly payment is due on the first day of each month. Full payment will be due regardless of days absent for illness, vacation, holidays, etc. 
Preschool (Ages 4Y-6Y) and Kindergarten Program
| DAYS | MONTHLY FEE | MORNING – 9:00am-12:00pm | AFTERNOON – 11:30AM-2:30PM |
| --- | --- | --- | --- |
| 1 Day | $73 Per Month | #504100-02 | #504100-03 |
| 2 Days | $146 Per Month | #504100-02 | #504100-03 |
| 3 Day | $219 Per Month | #504100-02 | #504100-03 |
| 4 Day | $293 Per Month | #504100-02 | #504100-03 |
| 5 Day | $366 Per Month | #504100-02 | #504100-03 |
Power Play (Ages 4y-7y) Before Care – 7:00-9:00 am
| DAYS | MONTHLY FEE | CODE |
| --- | --- | --- |
| 1 Day | $25 Per Month | #504100-04 |
| 2 Day | $49 Per Month | #504100-04 |
| 3 Day | $73 Per Month | #504100-04 |
| 4 Day | $97 Per Month | #504100-04 |
| 5 Day | $121 Per Month | #504100-04 |
Power Play (Ages 4y-7y) After Care – 2:30-6:00 pm
| DAYS | MONTHLY FEE | CODE |
| --- | --- | --- |
| 1 Day | $38 Per Month | #504100-05 |
| 2 Day | $75 Per Month | #504100-05 |
| 3 Day | $112 Per Month | #504100-05 |
| 4 Day | $149 Per Month | #504100-05 |
| 5 Day | $186 Per Month | #504100-05 |