Welcome to the Parks Projects information webpage.  Please visit this page to:
Receive status updates, review project documents and learn about the latest information on the planning process and community engagement efforts


Muir Park BELOW
---
East Wedgewood Park
Click here to open the proposed plan and to view images of potential amenities: East Wedgewood Park DRAFT MASTER PLAN (2021-08-19)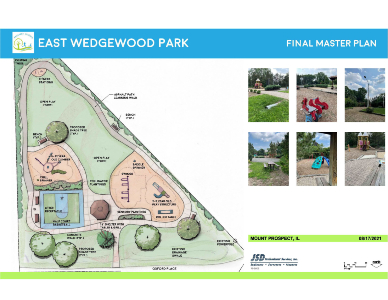 July 2022     The District has been awarded a $275,000 OSLAD grant by Governor Pritzker and the Illinois Department of Natural Resources (IDNR) which will fund a significant portion of planned improvements at East Wedgewood Park.  Construction should begin in the Spring 2023.  The anticipated grand re-opening of this park would occur by Spring 2024. The proposed master plan includes more benches and trees for shade, a concrete walking path, an asphalt learning path, a shelter, pollinator & sensory plantings, play equipment in separate areas for 2-5 year-olds and 5-12 year-olds and fitness stations. The play equipment includes swingers, saddle and chill spinners, slides and taller pieces for climbing. The open play area and half court basketball court amenities remain but will be relocated onsite. The Park District is working with Landscape Designers from JSD.  This neighborhood park was last revitalized nearly twenty years ago.  It is half an acre in size and currently has a small sand area, a playground for 5-12 year-old children and a half a basketball court.
March 2022     The OSLAD grants were expected to be awarded by April 2022. We recently learned that IDNR's Office of Grant Management  received 154 applications requesting over $48.4 million in funds. The amount available for grant awards is $28 million. Due to the large volume of applications and highly competitive grant program, in conjunction with limited staff levels, the FY22 OSLAD grant awards will be delayed.  We do not anticipate grants to be announced until late summer or fall of 2022 (which is when Park District staff had initially anticipated construction to start), and should we be awarded the grant, agreements would not be executed until winter of 2022 which moves project construction to begin in the spring of 2023. 
July 2021     The District provided an opportunity for residents to voice their opinion on improvements to East Wedgewood Park, located at Wedgewood Lane and Oxford Place in Mount Prospect. Public feedback was sought through public meetings to redesign the park and discuss possible amenities. Residents provided input on two concept plans at a July meeting and a final draft master plan which included resident input was presented to the residents in August.   The Park District sought an Open Space Lands Acquisition and Development (OSLAD) grant which is a state-financed grant to assist the Park District in funding the development of this park.   The grant application is due Sept 1, 2021 and grants are expected to be awarded by April 2022.
---
Muir Park 
Click here to view MUIR PARK FINAL DESIGN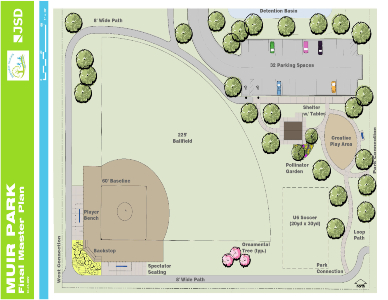 May 2022
After Park District officials reviewed survey results and several conceptual plans, a final park plan was designed which is required to finalize the agreement with Lexington Homes, LLC.  After several months of negotiations, the purchase and sale agreement was signed by officials representing both the Park District and Lexington on May 12, 2022 .  More info to follow as project progress.
May 2021
Prospect Heights Park District officials asked Muir Park neighbors to complete a survey in May 2021. This was an opportunity to play a role in finalizing a plan for the 4.5 aces park while the Park District officials continue to negotiate a land swap agreement with Lexington Homes, LLC .  Currently Muir Park is an open space with a ballfield, walking path and landscaping.  
---
BACKGROUND
In August 2016, the Prospect Heights Park District and School District 23 discussed acquiring the Jolly Fun House (JFH) property, 1001 Oak in Prospect Heights, for joint use. At that time, architects indicated the cost would be $8-$9 million in required renovations to bring the facility up to school code and it would cost $10 – $11 million to build a new facility after purchasing the property for $700K – $1.5million. The Park District alone cannot afford to purchase the property outright and knock down the existing facility for open space nor to rebuild a facility on the site.
Meanwhile, Lexington Homes has a contract to purchase the JFH property, adjacent to Muir Park.  In 2019, Lexington offered the park district a swap of 27,549 square foot (.62345 acre) land area to build a detention basin for the housing development on the adjacent property.  Currently the park site is 4.5 acres with nearly 3 acres usable due to trees.  Lexington has also offered to redevelop Muir Park. 
After many public meetings and feedback from the community, the Park District Board of Commissioners negotiated with Lexington Homes to improve Muir Park.