Youth Soccer
Youth Indoor Soccer League
Stay fresh for Spring Soccer! Practice the 1st day & the rest will be game play.  Each child gets equal playing time in a 4 v 4 format.  Teams are formed according to age/grade.  Age/grade levels maybe combined if needed.  A red/blue reversible jersey is required and can be purchased at the Gary Morava Recreation Center.  This league is a co-op with the River Trails Park District.  
2024 Indoor Soccer League
Registration will begin in November 2023.  2024 league dates are January-March. 
Click here for the league schedule
Little Kickers Youth Soccer Fall 2023 and Spring 2024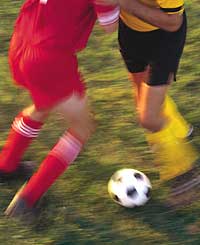 This league is a co-op with River Trails Park District. Age groups may be combined as needed. The P.A.Y.S certification is required. Each team will practice once a week for an hour. The coach will call players once teams are filled to tell them when practice starts. Uniforms may be purchased at the Marvin Weiss Community Center, 1500 Euclid Ave., Mt. Prospect Games are played on Saturdays from 9:00am-2:00pm.   Please note this registration covers both Fall 2023 and Spring 2024 seasons.  If you wish to opt out for the Spring 2024 season please contact the park district prior to the start of the spring season.  Registration deadline is August 11, 2023.  
Location: River Trails Park District
Dates: Saturday, 9/9-10/28
Fee: R $130 / NR $150
Volunteer coaches are needed to coach all youth sports teams. Please sign up to coach or assist teams on the Youth Athletics Registration Form.
P.A.Y.S. Parent Associations for Youth Sports
The Parents Association for Youth Sports (PAYS) is an education and membership program that supports parents of youth sports programs. PAYS has set a standard for parent orientation programs by providing a video based training from NAYS (National Alliance Youth Sports) which offers a simple, effective way to make youth sport parents aware of their roles and responsibilities. They can make their child's experience more enjoyable and positive by completing this program.
PAYS Online!
The 1-time training and membership fee is $5 per family for parents.
1. Go to www.nays.org
2. Top right corner click on "Sign Up"
3. Under "Parent" click on "Join Now"
4. Review How it Works and click on "Get Started"
5. Complete the Registration Form
6. Select Prospect Heights Park District